Sky Style Chennai Zitbank Bruin Leer

Stoer, praktisch en harstikke leuk! Dat is deze Zitbank Chennai in een notendop. Een gaaf retro ontwerp uit de collectie van het meubelmerk Sky Style. De zitbank is gemaakt van massief mangohout en heeft vier stevige poten. In het midden bevindt zich een opbergvak voor het bewaren van spulletjes.
Handig! Aan weerszijden van dit opbergvak vind je een zitgedeelte met leer of stof. Er is keuze uit verschillende kleuren leer/stof. De bank met opbergruimte past leuk aan een eettafel of zet gewoon zo tegen de muur!
De beste woontips vind je hier bij Woonshop XL online woonwinkel.
Specificaties:
Sky Style Chennai Zitbank Bruin Leer
| | |
| --- | --- |
| Afmetingen bxhxd | 120x53x29 cm |
| Materiaal | Hout |
| Merk | Sky Style |
| Kleur | Bruin |
| Doelgroep | Alle |
| Voorgemonteerd | Nee |
| Fabrieksgarantie termijn | 2 jaar |
| EAN | 4250950256859 |
| Geschikt als bijzettafel | Nee |
| Geschikt om op te zitten | Ja |
| Product diepte | 29 cm |
| Seizoenscollectie | Never out of stock |
| Seizoensjaar | Never out of stock |
| Type onderstel meubel | Hoge poten (11 cm en hoger) |
| Categorieën | Hockers |
| Breedte (cm) | 100 tot 125 cm |
| Type onderstel | Hoge poten |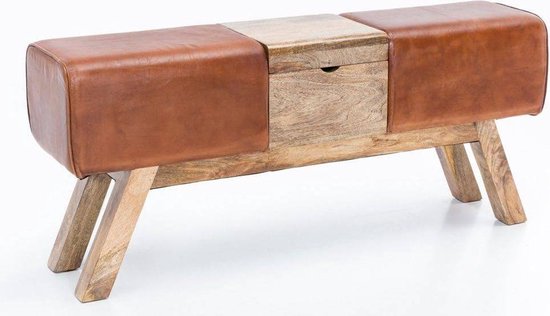 Sky Style Chennai Zitbank Bruin Leer