Eazy Living Velvet Hocker Dantel Koper

De Dantel hocker heeft een mooie velours bekleding en staat op elegante ijzeren pootjes. De hocker staat mooi in je woonkamer, slaapkamer of hal en kan gebruikt worden als opberger, voetenbank of extra zitplaats. Dankzij de Dantel hocker heb je extra opbergruimte voor plaids, magazines, … Afmetingen 115 x 43 x 46 cm *Dit artikel wordt niet verzonden naar de Waddeneilanden (Nederland)*

De beste woontrends vind je hier bij Woonshop XL online woonwinkel.
Specificaties:
Eazy Living Velvet Hocker Dantel Koper
| | |
| --- | --- |
| Afmetingen bxhxd | 43x46x115 cm |
| Materiaal | MDF, Velvet |
| Materiaal onderstel | Metaal |
| Materiaal vulling | Koudschuim |
| Gewicht | 13 kg |
| Merk | Merkloos |
| Kleur | Bruin |
| Stijl | Design |
| Doelgroep | Volwassenen |
| Voorgemonteerd | Nee |
| Inclusief opbergruimte | Ja |
| Fabrieksgarantie termijn | 2 jaar |
| Uitzonderingen fabrieksgarantie | / |
| Verpakkingsinhoud | 1 hocker |
| EAN | 5404016464255 |
| Geschikt als bijzettafel | Ja |
| Geschikt om op te zitten | Ja |
| Product diepte | 115 cm |
| Seizoenscollectie | Never out of stock |
| Seizoensjaar | Never out of stock |
| Type onderstel meubel | Lage poten (tot en met 10 cm) |
| Verpakking breedte | 41.5 cm |
| Verpakking hoogte | 34.5 cm |
| Verpakking lengte | 117 cm |
| Categorieën | Wonen Banken Hockers Meubels |
| Breedte | 25 tot 50 cm |
| Type onderstel | Lage poten |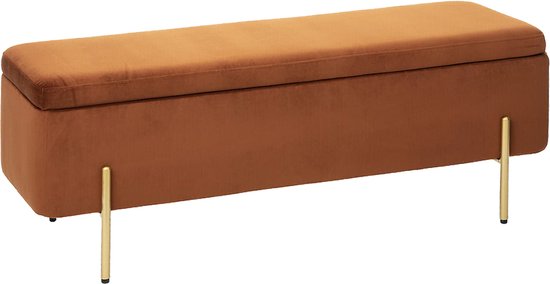 Eazy Living Velvet Hocker Dantel Koper