Maatwerk kasteeltafel eikenhout 250 cm

Deze prachtige massief eiken tafel met eiken kasteelpoot of kruispoot is behandeld met een olie. Past perfect in een robuust landelijk interieur maar ook in een luchtige Scandinavische sfeer. Combineer de tafel met een klepbank of strakke eetbank en het plaatje is compleet!

De beste woonideeën vind je hier bij Woonshop XL online woonwinkel.
Specificaties:
Maatwerk kasteeltafel eikenhout 250 cm
| | |
| --- | --- |
| Afmetingen (b x l x h) | 97 x 250 x 78 cm |
| Gewicht | 90 kg |
| Materiaal | Materiaal: Eikenhout |
| Merk | Oud is Nieuw |
| Kleur | Multi |
| Vorm | Rechthoek |
| Stijl | Landelijk |
| Doelgroep | Volwassenen |
| Hoogte instelbaar | Nee |
| Product gewicht | 90 kg |
| Afstand tussen poten | 200 cm |
| Verpakkingsinhoud | 2 poten een tussenbalk en blad |
| Verpakking lxbxh | 97 x 250 x 78 cm |
| EAN | 8719324451345 |
| Materiaal tafelblad | Hout, Eikenhout |
| Seizoenscollectie | Never out of stock |
| Seizoensjaar | Never out of stock |
| Type tafel | Eettafel |
| Vorm tafelpoot | Massief |
| Categorieën | Eettafels |
| Breedte (cm) | 75 tot 100 cm |
| Hoogte | 76 t/m 80 cm |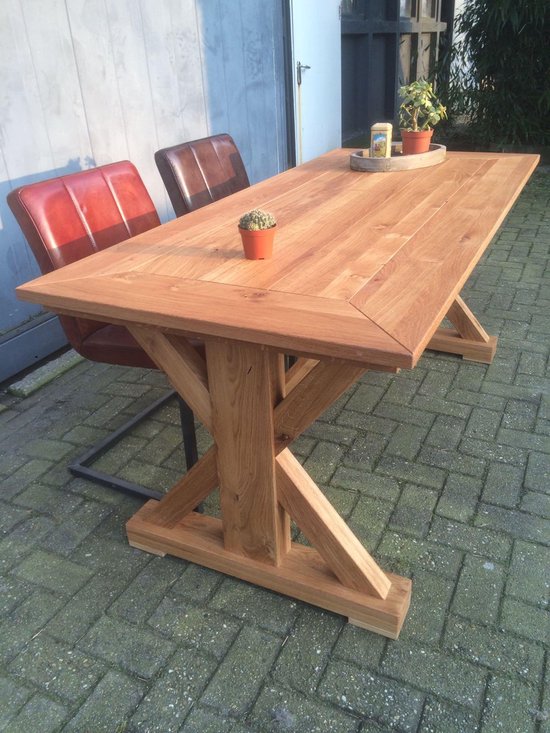 Maatwerk kasteeltafel eikenhout 250 cm