Indie Sofabed Black Mocca

Read . Enjoy . Sleepover – With its iconic legs and design features, Indie adds a retro touch to your modern home. Indie is not only visually enticing but also a comfy sofa making it both a joy to sit and to sleep on. Whether used as a sofa or full-size bed, Indie is sure to make a statement. Crafted from solid, but lightweight pinewood with a handmade futon mattress, Indie stands the test of time. Indie gives you the freedom to reinvent your surroundings as often as you want and can be easily placed in different environments. Be bold. Dare to stand out. Design by Says Who for Karup Design.

Pine wood, FSC ® C108366
80% cotton + 20% polyester
14 cm recycled mixed fibre mattress with a core of 4 cm foam

De beste woonideeën vind je hier bij Woonshop XL online woonwinkel.
Specificaties:
Indie Sofabed Black Mocca
| | |
| --- | --- |
| Afmetingen bxhxd | 200×78 cm |
| Type onderstel | Hoge poten (11 cm en hoger) |
| Zithoogte | 38 cm |
| Hoogte armleuning | 20 cm |
| Materiaal | Materiaal: Katoen |
| Materiaal onderstel | Hout |
| Materiaal vulling | Wol |
| Zitcomfort | Stevig |
| Aantal zitplekken | 3 |
| Verpakking afmetingen | 13 x39 x96 cm |
| Meubelafwerking | Gecapitonneerd (knopen) |
| Kleur | Mocca, Zwart |
| Afneembare bankhoes | Nee |
| Stijl | Scandinavisch & Basic |
| Doelgroep | Volwassenen |
| Zitdiepte | 62 cm |
| Positie bankhoek | Geen hoek |
| Type bank | Slaapbank |
| Onderhoudsadvies | Matras regelmatig omkeren |
| Met slaapfunctie | Ja |
| Met opbergruimte | Nee |
| Patroon | Effen |
| EAN | 5713655104027 |
| Breedte armleuning | 4 cm |
| Diepte | 100 cm |
| Gewicht | 55 kg |
| Seizoenscollectie | 4 seizoenen |
| Seizoensjaar | 2020 |
| Categorieën | Logeerbedden Slaapbanken |
| Breedte (cm) | 200 tot 225 cm |
| Maximale belasting | 150 kg en meer |
| Opties | Zonder opbergruimte, Met bodem, Inclusief matras |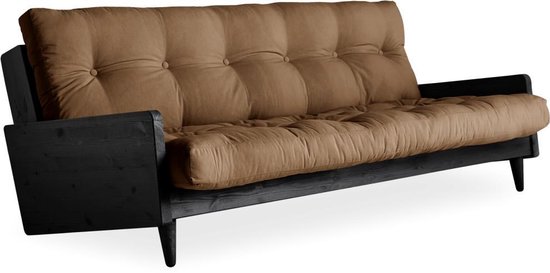 Indie Sofabed Black Mocca