Grab Clear lacquered Bordeaux

Share . Release . Nap – Grab is made for sharing. Both as a sofa and as a twin-sized bed when unfolded. The armrests on Grab is designed to be easily released to function as the back legs for the twin-sized bed with just a flip – which is the easiest transformation from sofa to bed so far. Grab comes with a comfortable futon mattress. Design by Says Who for Karup Design.

Pine wood, FSC ® C108366
80% cotton + 20% polyester
14 cm recycled mixed fibre mattress with a core of 4 cm foam

De beste woontips vind je hier bij Woonshop XL online woonwinkel.
Specificaties:
Grab Clear lacquered Bordeaux
| | |
| --- | --- |
| Afmetingen bxhxd | 204×93 cm |
| Zitdiepte | 40 cm |
| Zithoogte | 43 cm |
| Hoogte armleuning | 20 cm |
| Materiaal | Katoen |
| Materiaal onderstel | Hout |
| Materiaal vulling | Wol |
| Zitcomfort | Stevig |
| Aantal zitplekken | 3 |
| Verpakking afmetingen | 25 x35 x205 cm |
| Meubelafwerking | Gecapitonneerd (knopen) |
| Kleur | Rood |
| Afneembare bankhoes | Nee |
| Stijl | Scandinavisch & Basic |
| Doelgroep | Volwassenen |
| Type onderstel | Massief |
| Type bank | Slaapbank |
| Positie bankhoek | Geen hoek |
| Onderhoudsadvies | Matras regelmatig omkeren |
| Met slaapfunctie | Ja |
| Met opbergruimte | Nee |
| Patroon | Effen |
| EAN | 5713655109107 |
| Breedte armleuning | 5 cm |
| Diepte | 90 cm |
| Gewicht | 35 kg |
| Seizoenscollectie | Never out of stock |
| Seizoensjaar | Never out of stock |
| Categorieën | Logeerbedden Slaapbanken |
| Breedte (cm) | 200 tot 225 cm |
| Opties | Zonder opbergruimte |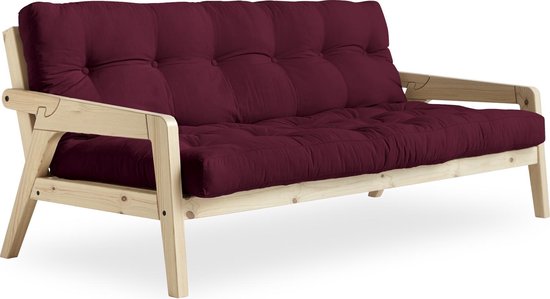 Grab Clear lacquered Bordeaux