Beat Clear lacquered Navy

Lean . Read . Dream – Beat sofa adds a touch of simplicity and airiness to any room in which you place it. With the arms up, the high-quality futon mattress creates an inviting nest of softness in which to sit: alone or with someone else. Lower one arm with a quick and easy motion and you've got a lounge chair in which you can stretch out, daydream and truly unwind. Put the other arm down and you create a single bed that can't be beaten in terms of uniqueness. 

Pine wood, FSC ® C108366
80% cotton + 20% polyester
12 cm recycled mixed fibre mattress with a core of 4 cm foam

De beste wooninspiraties vind je hier bij Woonshop XL online woonwinkel.
Specificaties:
Beat Clear lacquered Navy
| | |
| --- | --- |
| Afmetingen bxhxd | 162×77 cm |
| Zitdiepte | 38 cm |
| Zithoogte | 37 cm |
| Hoogte armleuning | 30 cm |
| Materiaal | Katoen |
| Materiaal onderstel | Hout |
| Materiaal vulling | Wol |
| Zitcomfort | Stevig |
| Aantal zitplekken | 3 |
| Verpakking afmetingen | 15 x25 x140 cm |
| Meubelafwerking | Gecapitonneerd (knopen) |
| Kleur | Blauw |
| Afneembare bankhoes | Nee |
| Stijl | Scandinavisch & Basic |
| Doelgroep | Volwassenen |
| Type onderstel | Massief |
| Type bank | Slaapbank |
| Positie bankhoek | Geen hoek |
| Onderhoudsadvies | Matras regelmatig omkeren |
| Met slaapfunctie | Ja |
| Met opbergruimte | Nee |
| Patroon | Effen |
| EAN | 5713655101026 |
| Breedte armleuning | 7 cm |
| Diepte | 80 cm |
| Gewicht | 32 kg |
| Seizoenscollectie | Never out of stock |
| Seizoensjaar | 2020 |
| Categorieën | Logeerbedden Slaapbanken |
| Breedte (cm) | 150 tot 175 cm |
| Opties | Zonder opbergruimte |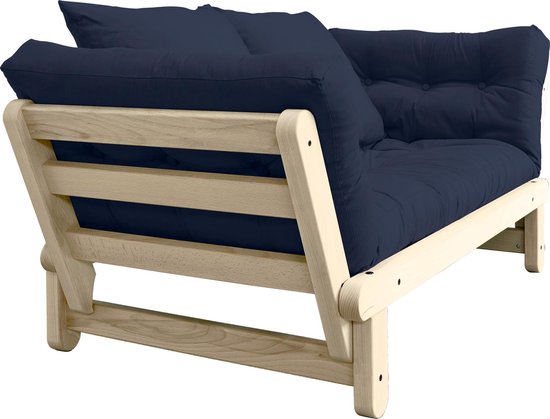 Beat Clear lacquered Navy